Buy Alli Diet Pills Online
Everyone is talking about Alli diet pills, the only FDA approved, over-the-counter weight loss product. It blocks 25% of the fat you eat, and makes it possible to lose 50% more weight than with dieting alone. Since it is so effective, and available without a prescription, everyone is after it.
Buy Alli Online
Because everyone wants to buy Alli diet pills, many stores sold out their initial stocks right away. The solution is to buy Alli online, from a trusted Internet drug store such as Drugstore.com.
There you can buy Alli starter packs (in 60 count and 90 count varieties), weight loss aid refill packages, "The Alli Diet Plan" book and the "Are You Losing It?" book.
Alli Starter Packs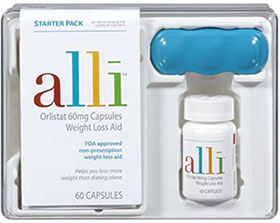 Starter packs come a bottle of 60 (or 90 depending on the version you purchase) orlistat capsules, which are the Alli diet pills. They also contain a carrying case to make it easy to have the product with you whenever you eat a meal. An introduction guide is included to help you lose weight effectively. Also included is a Companion Guide that explains dosage and use, how to set proper goals, diet guidelines and side effects, as well as a Healthy Eating Guide to help with menu planning and eating out. In addition, there is a calorie and fat counter, a daily journal and more.
Alli Diet Pill Refills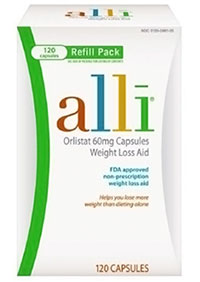 After you run out of the capsules in the starter pack, you can buy Alli Weight Loss Aid refills. There is no need to buy another starter pack because you don't use up the other items included with starter packs. The refills contain 120 Alli diet pills, so they are quite cost effective despite the higher price tag. After all, even with 3 capsules a day this is still a full 40 day supply. As with the starter packs keep in mind that this product is only for overweight adults that are 18 years or older. It is also recommended that a multivitamin be taken daily when you are using this product, so you might consider buying one of the many multi-vitamins sold at Drugstore.com.
Alli Diet Books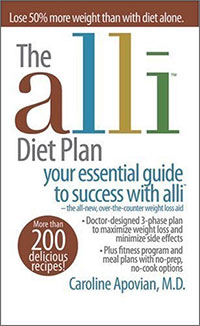 The book, The Alli Diet Plan, is designed to be your essential guide to success with this program. It presents a doctor engineered three part plan to help minimize side effects while maximizing weight loss. Included are meal plans, some with no preparation and no cooking needed, which is perfect for today's busy lifestyles. Utilize the fitness program to improve your health and shed more pounds. The book has a dining guide for 100 different restaurants and more than 200 recipes that are not only delicious, but designed to work well with these diet pills.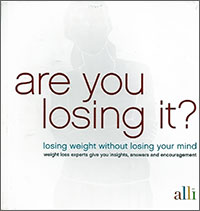 "Are You Losing It?" is another Alli book, and it is from the manufacturer of the product, GlaxoSmithKline. It has the sub-title, "Losing Weight Without Losing Your Mind—Weight Loss Experts Give You Insights, Answers and Encouragement." It is relatively short, but contains a lot of useful information on losing weight. You can learn the reasons why many people have trouble losing weight, and how you can do things differently to achieve success. It will help you understand your metabolism and why crash diets are so ineffective at delivering long term success. Plus there is the necessary encouragement to help you eat better, exercise more and lead a healthier lifestyle, while being happy and enjoying the journey. Another nice benefit: Glaxo Smith Kline is donating the profit earned from this book towards help prevent childhood obesity.